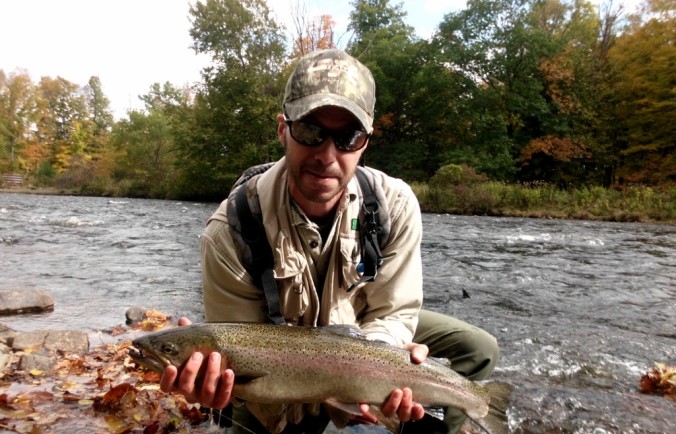 About Us
In 2009 Scott Belisle began designing rods applying a
manufacturing process not previously used in the
fishing industry. Partnering with leading resin makers,
he developed a system that is resilient and
impact resistant. Combined with the latest in carbon
fiber technology, this new design of rod allows
it to load and unload quickly, promoting ease of casting
with exceptional feel and sensitivity.  Each rod is hand made in our
facility near the Lehigh river in White Haven, Pennsylvania
with meticulous care and attention to detail.
Testimonials
This is what people are saying about our rods:
"WOW! I cant believe that I was able to find a top quality fishing rod that fits my small stream fishing. After talking with Scott (Owner of Lehigh Fishing) we decided on the S5OU 5ft ultralight rod. This rod is small enough to get into the tight quarters of small stream fishing and sensitive to the point of knowing that there is a fish. If your looking for that TOP QUALTY FISHING ROD make no mistake in LEHIGH. Thanks again for a great product."
Chris Bates, host OUTDOOR SECRETS UNWRAPPED radio show
"An 8'6″ 5wt fly rod is the "go to" trout rod for a lot of fly fisherman. Ideally, it should be versatile enough to present small dry flies well when needed but still have enough in reserve to punch out longer casts into the wind. And it should be able to handle reasonably sized streamers and weighted nymph rigs without wearing your arm out. In my opinion, The Lehigh model F8654 can accomplish all.
A typical day out west may find you fishing an early morning spinner fall to picky fish, tossing big hopper patterns with droppers throughout the afternoon followed by swinging soft hackles and stripping streamers into the evening. My F8654 does all of that well. While its a carbon rod, it's moderate action allows it to load easily and remain very sensitive. The rod is light tipped, and very smooth is just plain fun to cast."
Jim McGeever
"Went out on the Susquehanna River. Caught a boatload of smallmouth. I can't tell you how happy I am. The best rod I have ever owned! I will never own anything but your rods."
TJ Giunta on his custom S66M
"Scott, was a pleasure fishing with you yesterday and having an opportunity to try out your 3 piece 3wt fly rod. What really impressed me with the rod was it's ability to declicately place a fly on the water – no forceful flop, no splash and… right where you wanted to put the fly. As a result I hooked a number of fish while working in close quarters. I'd also like to add that I was impressed with the materials, in particular the guides through which the fly line flowed through smoothly. Excellent work!"
Paul Raubertas, president, Western Pocono chapter of Trout Unlimited
"I guided Scott while he was trying a prototype last fall. It had great sensitivity and feel. I cannot wait for the finished product so that I can try it out……."
Mike Deyo
Professional salmon & steelhead guide Altmar, N.Y.
"The rod is very stylish but most of all it is durable and smooth from catching 2 inch to 2 foot fish. The rod is very sensitive. The rod creates a vibration when jigging that I believe attracts more fish. I like it. I caught a 10″ perch and the rod was so smooth reeling it in. All around great rod!"
Dave O'kane on his custom light action ice rod
"The 5.0' rod (Nescopeck) works well with my antique 408 Garcia Mitchell reel. Being an avid stream fisherman by both sport and sustenance I am pleased with the gradual sensitivity that enables quick determination between trout of variable size and weight or creek chub. The tapered strength allows for deep hook penetration and dominates control over a fish's reactive movement to the point of exhaustion. Noticeably, very little wiggle left in them when I stick the knife in. An option not encouraged but desired for the type of fishing I desire. Great casting distance and accuracy. Good weapon."
The Trout Hunter.
Tom Nawrocki
"I spent a day fishing at the Dream Mile club on the Tobyhanna River, used Scott's 2 piece 8-1/2 ft. 5 weight rod. Caught ten trout with the rod including two 18 inch rainbows. Rod is light, casts very easily, and gives a great feel of the fish you are fighting. Would highly recommend the rod for streams such as the Toby and Lehigh Rivers."
Charlie Best (member the Stretch and Dream Mile Clubs)
"I used the 8.5 ft. 5 wt. fly rod. I was impressed and surprised with how easy it is to cast. Nice product."
Dan Werner